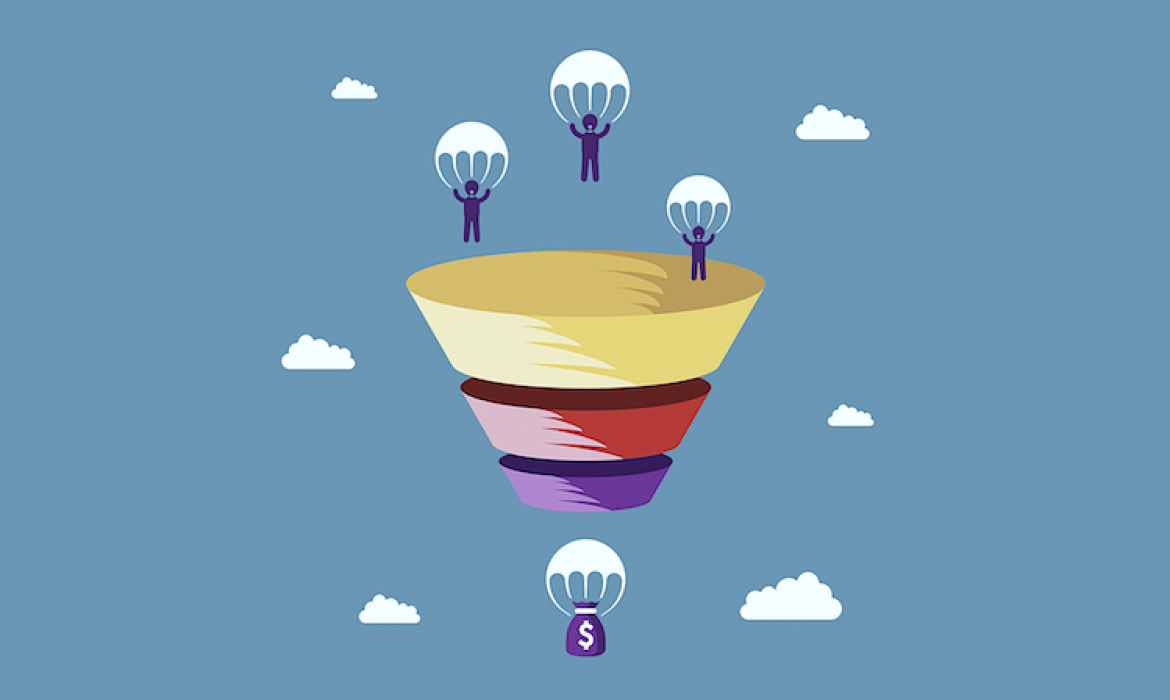 If you're trying to nudge your prospects to turn them into customers, these seven ideas can help.
Conversion email marketing funnels are created to motivate recipients to make a purchase or complete another action right now. Sending highly targeted, personalized messages is essential to your success when it comes to conversion email marketing funnels. Make sure the actions you want recipients to take are extremely relevant and specific. In other words, the call to action should be abundantly clear.
Here are some popular conversion email marketing funnels:
Abandoned cart. When someone starts the checkout process on your website but doesn't complete their purchase, don't let them get away. You should immediately follow up with an abandoned cart funnel that sends a series of messages created to motivate them to complete their purchase. The first message might say something as simple as, "Did you forget to complete your purchase?" The second message could offer a discount or free shipping, and a third message could capitalize on the recipient's fear of missing out if they don't make the purchase.
Trial upgrade. If you offer a free trial of your product to acquire leads or move people to the middle of your marketing funnel but they don't purchase your product after the trial ends, you should follow up with a trial upgrade conversion funnel. The messages in this series should remind them of the benefits they'll miss out on if they don't upgrade. Be sure to offer ways for them to get more help. It's also effective to send a message in this sequence that offers free setup, free training, or a discount on the product price.
Free demonstration. Free demos are often offered for complex products, particularly software-as-a-service (SaaS) products that people need to see in action to truly understand. Not only do people have to give up their contact information and email addresses to get a free demo, but they also need to speak with a salesperson. This is not a low-risk proposition for people, so free demos are usually used to move leads from the middle of the funnel to the bottom or to motivate people at the bottom to finally make a purchase.
When someone signs up for a free demo, you must make them feel comfortable with that decision. Send a series of messages that confirms the demo time and explains what will be discussed. Follow up with a reminder message before the demo, and after the demo, send additional messages with useful information, helpful links, testimonials, case studies and other content that will remove any barriers to buying.
Cross-sell and add-ons. The perfect time to present complementary products to a customer is when they're actively making a purchase on your website. However, don't forget to offer complementary products as soon as the transaction is completed. You can create cross-sell and add-on conversion funnels that are sent as soon as customers purchase specific products or services. Your messages should introduce the products, explain why they're perfect complements to the original purchase and include customer reviews. You can even include a discount on the complementary products to boost sales.
Special offers and promotions. Often, consumers want to make a purchase but need one more nudge to take action. This is particularly true since people are so busy these days — it's easy to put off making a purchase until that purchase is no longer important or necessary. To give people on your list that extra nudge, create special offer and promotion conversion funnels that are sent when people view specific pages on your website or on specific dates for seasonal or time-sensitive products. Send a message hyping the discount or promotion and follow up with additional messages reminding people when the offer ends and why they don't want to miss out on getting the products they're interested in through the special offer. Including a countdown timer in these messages works extremely well to increase the response rate.
Refer a friend. All your subscribers are connected to other people online and offline, which means your brand has the potential to reach far and wide if you create refer-a-friend programs and promote them through email marketing funnels. These funnels can be triggered after someone on your list makes a purchase or any other time you choose. Your messages should explain how the program works and what people get for referring a friend. Make sure they can share it online and offline. To turn this into a conversion funnel, offer a special discount to recipients who actually refer friends.
Loyalty programs. Create loyalty programs that reward your most loyal customers. For instance, you can create a funnel that's triggered to start based on a subscriber's actions, such as when the subscriber makes a purchase for the first, second, third, or any number of times you choose. Messages in this funnel should explain how the loyalty program works and make the customer feel special as a member of this exclusive group.
Keep in mind, loyal customers can become your most vocal brand advocates, so be sure to nurture them using personalized, dynamic content. Offer a discount when recipients join the program to turn this into a conversion funnel that leads to a purchase right now.
___
by Susan Gunelius
source: Entrepreneur
Related Posts