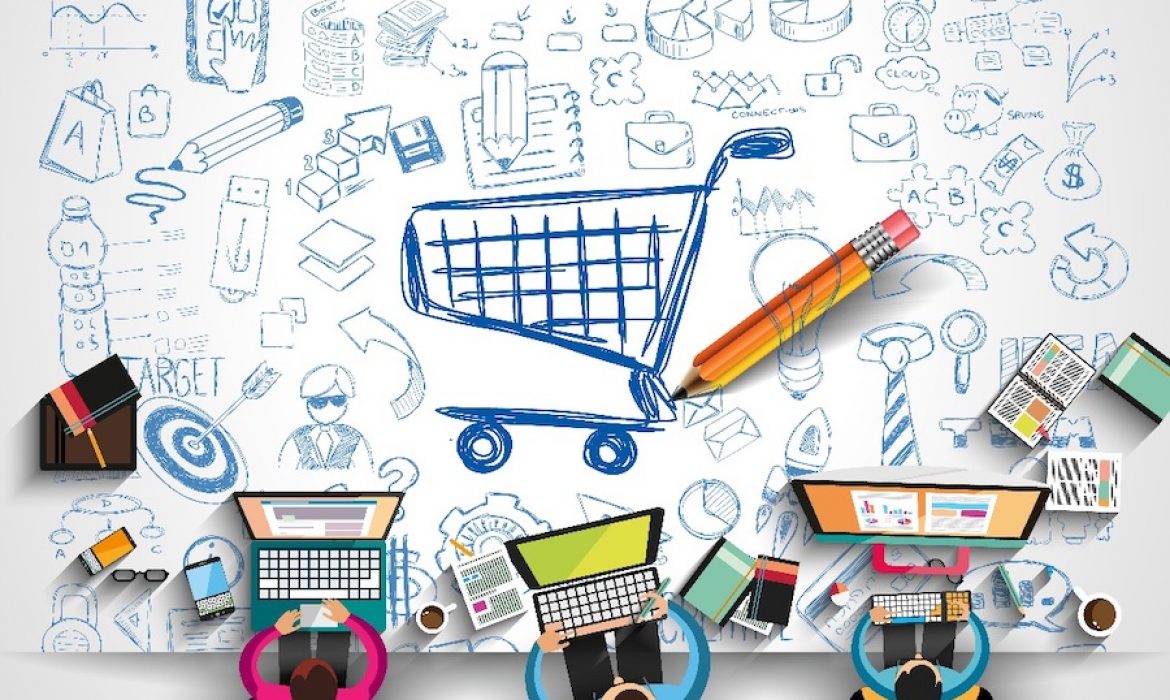 Don't be under the misconception that building an e-commerce store is the most important part of your task as a founder.
In fact, your job has just begun.
Digital marketing is vital to create exposure, to attract customers, build their trust and engage with them.  It's a blueprint for your online portal.
There's a lot of data proving the importance of attracting and retaining customers for your e-commerce website. Here are some eye-opening statistics:
        Only 2.86 per cent of website visitors on an e-commerce store make a purchase.
        8.98 per cent of e-commerce website visitors will leave without sharing any contact information, thus making it tough to gather details about a lead.
        The average cart abandonment rate across industries is 69 per cent to 82 per cent.
        Customers who've had a negative experience with a brand are 62 per cent less likely to purchase from that brand again.
      81 per cent of consumers trust reviews from their friends and family over advertising.
These statistics show how difficult it is to gain traction for a newly launched online store.
This article highlights 5 effective digital marketing strategies you should implement in the first three months of launching your e-commerce store.
E-commerce metrics to focus on:
        Average Order Value (AOV) – This is the average amount a user spends on placing an order on your e-commerce store. Ideally, the higher the AOV, the better for a business as it indicates more profit per customer.
        Customer Lifetime Value (CLTV) – CLTV means the value of a customer during the time they spend with the brand. The amount of money you make from the user before they switch to the competitor.
        Cart Abandonment Rate – The percentage of visitors who added a product to the shopping cart but did not make a purchase is defined as the cart abandonment rate.
        Website Traffic – Every e-commerce business depends on this metric as it drives sales. The sub-metrics include unique visitors, returning visitors, bounce rates, pages with maximum visitors and visitors per page. Focusing on these metrics helps to fetch the desired sales.
        Product Return Rate – Businesses of all sizes take this metric into consideration as a high return rate means the product has a problem. Segment the underperforming products and remove them from your offerings.
        Support Rate – Support rate is the number of website visitors and customers who require support prior to buying from your website. You can lower the support rate by providing information in the FAQs, via live chat, email and phone.
5 tested and proven digital marketing strategies worth implementing
The 5 digital marketing strategies that form the pillar of your e-commerce store include:
1. Building an online presence via content marketing – Content marketing gives you an opportunity to build trust among your target audience by sharing helpful information.
81 per cent of consumers conduct research before purchasing a product or even interacting with a brand. As a business owner, this reduces your chance of influencing their decision. Using content marketing, you can solve their pain points, address the loopholes of the existing players and give them tips that make their life better. This can be in the form of articles, infographics, visuals, and videos.
You could start with a simple blog for your e-commerce website, to reach engage and retain your audience. Create content that your audience would love sharing with their network. Additionally, you could run paid ads on social media retargeting the website visitors, blog subscribers and customers.
2. Ask for product reviews – A few years ago, who would've thought that some stars and remarks could become indispensable for a brand? Today, customer feedback comes second to word-of-mouth in influencing a customer's purchase decision, thereby driving the growth of e-commerce.
Reviews increase the trust thereby directly impacting the sales and revenues. They can increase trust and boosting revenues.
If your product has no reviews, it leads to mistrust for your brand. If your product only has five-star reviews, it may lead to suspicion (especially when the description is sparse). When your brand has a mix of stellar, detailed, positive and neutral reviews, it increases the ranking, visibility and sales for your brand.
Here are some actionable tactics to gain reviews for your products:
        Provide outstanding customer service — Happy customers are the best brand ambassadors you can have. Customers blown away by your customer service leave the best reviews.
        Ask for a review in a follow-up email after the buyer makes a purchase – The critical element here is that the product the customer ordered is delivered. They would've used it, hence this is the best time to send a testimonial request. Ask them in a polite way, "a review will be highly appreciated" instead of an outright "please review us".
        Give a discount in exchange for a review – This is one of the most effective ways of gaining reviews as you're incentivizing the buyer for more reviews.
        Ask for a review in exchange for a free product – Amazon's carousel "Customers who bought this item also bought" displays products similar to yours. Find out the top reviewers for those products. Send them a free product and request them for a review.
        Give your customers different options – Your website is not the only place where you should be asking the customer to leave a review. Make your brand available on other platforms that they use frequently. You can find some of the most powerful reviews on Twitter and Facebook. Based on your industry, find out the social media platforms that your audience refer to before making a purchase and ask your existing customers to leave a review there, with a #(hashtag).
In short, your product needs reviews. Reviewers validate your product and improve the bottom line.
3. Provide customer service via live chat – A study by the American Marketing Association found that customers using live chat are 3X more likely to make a purchase than those who don't. One reason why customers love live chat is because of the convenience of getting their queries solved immediately while multitasking.
Three reasons why live chat gives the highest level of customer satisfaction are:
        Live chat elicits instant responses – In comparison to an email that can go unanswered for hours, live chat is instant. The website visitor or customer can engage with the live chat while browsing other websites or while working.
The risk – The average wait time is one minute. If your live chat doesn't elicit a response beyond that, the visitor would lose interest and switch to the competitor. The best response time is below 10 seconds. Ideally, you should not keep the query unanswered for more than 30 seconds.
        Live chat allows real-time conversations – What could take two to three emails to answer a question is solved by live chat instantly. For a precise answer, the customers can share screenshots or reference images with the live chat agent.
The risk – Real-time conversations require the support staff to be well-trained and knowledgeable about the products to manage the conversation real-time.
        Live chat drives sales – Live chat gives your support team the ability to upsell or cross-sell. If data shows that after customers buy a product 'x", they tend to purchase product "y", your live chat agents can suggest the complementary product. When the customer lands on your website, if they've opted for the basic plan, you could give them a discount to upgrade to the premium plan.
You could either use a live chat software or outsource to a live chat agent providing agency.
4. Promoting with pay-per-click advertising – PPC ads are a foundation for many e-commerce digital marketing strategies.
If you're unfamiliar with this term, it means your brand would pay an ad network such as Google, Facebook or Bing every time anyone clicks on your advertisement.
The three most relevant ads to e-commerce websites are – paid search, display ads and shopping campaigns. Each of these ads has a vital yet different role in the marketing of your brand.
      Paid search – The paid search ad appears on the top of the search engine results and doesn't have any kind of images.
In simpler terms, Google provides the user with an only text-based ad on the user's search query.
This strategy serves great if you're looking for leads for an already launched product. If the user is searching for an "organic soap with essential oils", they're most likely to purchase it.
The user is searching because it's their need and they're looking for the best option. Thus paid ads have a high conversion rate and should be a part of your digital marketing strategy.
        Display advertisements – Also called banner ads, they're seen over famous websites, apps and mobile games that the user frequently visits.
Via retargeting, these advertisements follow you based on your prior browsing history.
Display ads help build brand awareness and lead to conversions to retarget a customer or a visitor. The downside is that their conversion rate is lower than that of search ads.
While the average conversion rate with display ads is 0.77 per cent for various industries, for search ads the average conversion rate is 3.75 per cent, reportsWordStream.
        Product listing ads – Using Google shopping campaigns and Bing product advertisements, your products will appear directly in the search results.
For example, if a user is looking for "animal testing free lipsticks", the user will see numerous images of such lipsticks on the top of the search engine.
Depending on the choice of product suitable for their needs, the user will click on the ad and would be redirected to the online store.
5. Reducing cart abandonment rate – 7 out of 10 shoppers abandon their shopping carts after adding products, without making a purchase. Shopping cart abandonment is one of the biggest enemies of an e-commerce store, costing nearly 75 per cent of the loss of their total sales.
Push notifications are an effective channel to re-engage with visitors who leave your website without making a purchase. Because acquiring a new customer is 5X more expensive than retaining an existing one.
Push notifications send real-time contextual information to your app and desktop visitors. You can reach out to visitors and users who've subscribed to your notifications and send product updates, discounts, upgrades and shipping information.
Some ways you could re-engage with existing customers via push notifications are:
        Send discount coupons to customers who've abandoned their shopping carts
        Segment the users based on their interests, activity, behavior and browsing history, to send targeted messages
        Send the push notifications at the time when your users are the most active
The click-through rates of push notifications are higher than that of emails, revealed a study by PushEngage, a desktop push notification provider. One reason could be that the user has to fill many details to subscribe to emails whereas opting for the push notifications happens in a single click.
You could use a desktop notification provider such as TruePush to engage and reengage with your customers.
Breaking down the three main stages of launching your e-commerce store:
Phase 1 – The Pre-launch phase
      Ensure that your online store has an easy to remember the name.
      If you're launching in multiple countries, localize the website according to the geography. For best results, hire a localization agency where native translators translate your website taking into consideration the cultural context.
        The product images should be high-quality and include keywords in the description.
  The content on your website should be precise, easy to understand and with the right keywords.
Phase 2 – During the launch
        Run paid PPC ads.
        Run ads on social media retargeting your customers and website visitors.
        Ask for product reviews and customer testimonials.
        Build your online presence on social media and create content to bring in new visitors.
Phase 3 – Maintaining interest
        Run an influencer marketing campaign to attract new relevant users.
        Use push notifications to re-engage with existing users.
        Keep upgrading your e-commerce store and tackle the bugs.
        Give discounts over abandoned carts on email.
Summing up, your e-commerce store's digital marketing plan requires you to build an online presence. Next, plan a paid marketing campaign. Provide outstanding customer support. Ask influencers and bloggers in your niche to promote the store. Ask your users for positive reviews. Solve customer issues immediately.
___
by Jitendra Vaswani
source: e27
Related Posts