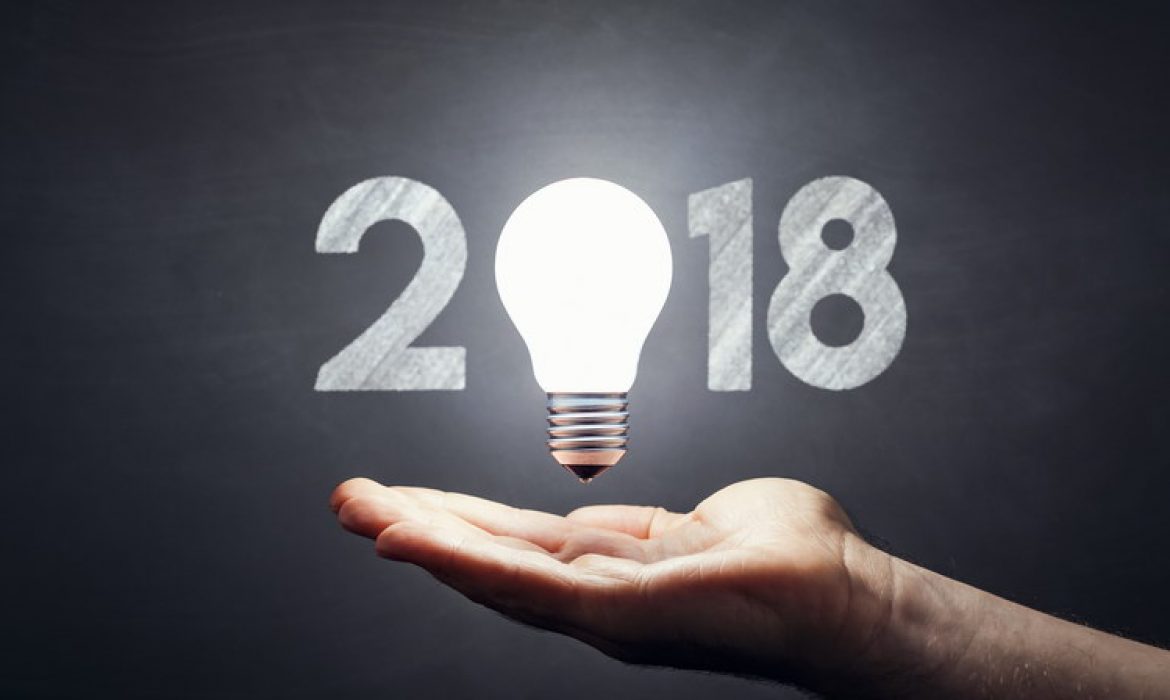 Content marketing has evolved from a buzzword to the number one priority for marketers in 2017, accounting for 26% of a marketers entire budget. Here are six predictions for B2B content marketers to look out for in 2018 and beyond.
As Professor Karl Schwab, Founder and Chairman of the World Economic Forum, wrote:
"We are in the Fourth Industrial Revolution characterized by a range of new technologies that are fusing the physical, digital and biological worlds, impacting all disciplines, economies and industries, and even challenging ideas about what it means to be human."
To put this into the context of content marketing, 77% of US adults now own a smartphone and in 2017 there were 3.6 billion global internet users – an increase of 29% from 2.8 billion in just 3 years.
On average we hear or see 4000 ads every day and in 2017 we posted 46,740 million times on Instagram; commented 510,000 times on Facebook; uploaded 400 hours of new videos on YouTube; and sent 455,000 tweets… every minute of every day!
In the last 2 years alone we have created 90% of the world's data and the IDC predicts that by 2020 we will producing 10-times more data than we are now (16.3 ZB to 163 ZB).
Driven predominantly by the rise of the Internet of things (IoT), it is also estimated that by 2020 we will interact with 4800 connected devices per day, 50% of all searches will be voice searches, and your customers will manage 85% of their relationship with you without ever talking to a human being.
Perhaps more shockingly, the advancement of computing and the role of artificial intelligence (AI) will mean that by 2025 computers will reach human brain capacity and by 2050, the projected power of computing will reach the capacity of all humans.
Combine all of these trends with the latest technology – blockchain – and we've got a world that exceeds even the darkest Black Mirror episode.
But what does this mean for content marketers?
In the short term, technology has enabled more people than ever before to become content creators, which has led to an almost unquantifiable oversupply of content and an increasing fight for your customers' attention.
In the longer-term, you will need to fundamentally change the way in which you communicate with your customers, embracing emerging technologies that are already starting to reshape our day-to-day environment.
So, what do you need to look out for in 2018 and beyond?
Technology enabling new formats
The Content Marketing Institute found that 62% of B2B marketers consider ebooks/white papers to be their most effective forms of content. They also seem to be a favorite of buyers; 76% said they would share information about themselves for ebooks.
Still, we predict that the traditional PDF download will soon be a thing of the past. If you think about most ebooks, white papers and case studies, they are still not even optimized for mobile – even as people now spend more time on mobile than desktop and the average attention span is only 8 seconds!
We also think there's a huge opportunity to improve the experience and feedback loop of content used in B2B content marketing. Almost all B2B content is consumed digitally, so why do we still produce PDFs that try to mirror the experience of a physical book? For 2018, we're thinking about more interactivity, more live video (just look at HQ Trivia), and more engaging content.
When was the last time you read a 30-page PDF (without printing it and reading it on your commute) anyway?
Improved attribution
Measuring the ROI of content was a key challenge for content marketers in 2017.
According to Oracle, 67% of customers use more than one channel to make purchases and as technology empowers new marketing channels, the customer journey is only going to get more complex – making this an even bigger challenge for marketers in 2018.
While many of us still use page views and social shares to determine the success of a piece of content, to truly determine the ROI of your full content marketing strategy you must untangle the complex web of data from across all campaigns and channels.
With the increasing prevalence and simplification of SAAS data-driven attribution tools, such as Fospha, Neustar and Conversion Logic, the barrier to understanding your data is slowly decreasing.
We predict that if you don't have a data-driven multi-touch attribution model already, it is likely that you will by the end of 2018.
Humanized content delivered at the right time and the right place
With more content being created than ever before, the competition for someone's attention is at an all-time high. To stand out from the noise you need to deliver a clear message that solves your customer's problem effortlessly at the right time, in the right place, and in the right format.
To do this you need to ensure that your content marketing strategy covers all areas of a prospective customer's journey, regardless of complexity.
While 63% of marketers create content by buyer persona – 38% by vertical; 30% by geography and 30% by account or customer – it is important to ensure you also create content for the right moment.
From discovery to consideration, conversion and retention, it is imperative to create quality content that resonates with each stage of the funnel, but is also delivered across multiple touchpoints across all emerging channels.
As your customers become increasingly tech- and data-savvy, and in an age where transparency through online reviews and chatrooms are commonplace, there is no margin for error. You must be human in tone and focus on the problems you solve.
Indeed, over the course of 2018 we foresee marketers optimizing their content even more acutely by focusing on the channel and mindset of the reader, and in turn becoming more human in tone.
Artificial intelligence-generated content
Content creation is a challenge for 47% of marketers, so why not turn to robots to help solve that problem?
Gartner predicted that by 2018 "20% of all business content will be authored by machines." Elon Musk believes computers will be able to do anything a human can by 2030 to 2040. And in 2017, Google invested more than $800,000 in the Press Association's initiative to generate news stories solely through the use of AI.
Platforms such as Quill and Wordsmith already offer automated content generation, which is useful for creating declarative content or product descriptions at scale. However, in the context of content marketing, content creation and ideation is still some way off from being fully automated.
Our prediction for 2018 is that we will see the increasing use of AI-powered tools to assist in creating content. While humans will still do the heavy lifting, we will see more machines collecting stats and optimizing for SEO.
Hyper-personalization
Building on the previous prediction, we believe AI will play a bigger role in creating hyper-personalized, relevant content at scale. According to Accenture, 56% of people are more likely to purchase from a retailer that recognizes them by name. McKinsey & Company also show that personalization can deliver up to eight-times the ROI on marketing spend.
And of course, it's no secret that personalized subject lines have higher open rates than non-personalized. Translating this dynamically to articles, white papers and e-books is the natural next step that we are already seeing in video.
Crystal is a tool that analyzes publicly-available social media data, providing marketers with personality recommendations. Combine this with AI and automation and you could serve each visitor a different version of your content, written to match personality traits and ensuring the format, tone and timing is optimized to maximize conversion.
Blockchain
While the meteoric rise and recent fall of bitcoin has been front page news of late, blockchain (the decentralized technology underpinning bitcoin) is often overlooked, and particularly in the context of marketing. But it shouldn't be.
Putting aside all the technical jargon, if you take a look at some of the companies that are already using blockchain technology to disrupt marketing, you'll be amazed at some of the use cases.
Here are just two examples:
Individuals, not brands, are starting to control access to their identity and personal information through services such as uPort, MetaMask, Blockstack, or Keybase.
We are putting a price on attention. Social media platforms like Steem, where attention and participation are rewarded and earned, are starting to become increasingly popular. Sites like earn.com, again use blockchain technology to allow users to set their price to respond to a marketing message
While the blockchain marketing landscape is still in its infancy, if you look at the potential this technology has on disrupting marketing, it is certainly one to watch.
We would even go as far as predicting that blockchain will be the buzzword of 2018.
Why content marketing?
Content marketing has evolved from a buzzword in 2011, to the number one priority for marketers in 2017, accounting for 26% of a marketers entire budget.
Eighty percent of people prefer a series of articles over an advertisement, 70% of people agree that content marketing makes them feel closer to a product or business, and 60% credit content for helping them make better product decisions.
It also costs 62% less than outbound marketing and generates 3-times as many leads.
In a world of increasing competition, scarcity of attention, transparency and technological disruption, you can't afford to stand still. You have to show real value to prospective customers or they'll go elsewhere.
Content marketing is not only a process that enables this, but also a culture that disseminates across your entire organization, ensuring that your business aligns with the evolving needs of customers at every stage of their journey.
It is up to you to match the need with your product or service and deliver the right message at the right time, and in the right way.
Be sure to keep an eye on the broader impact of emerging technologies, such as AI and blockchain, as they are already impacting our day-to-day lives – even if you can't see it just yet.
___
by Sam Lawson
source: ClickZ
Related Posts