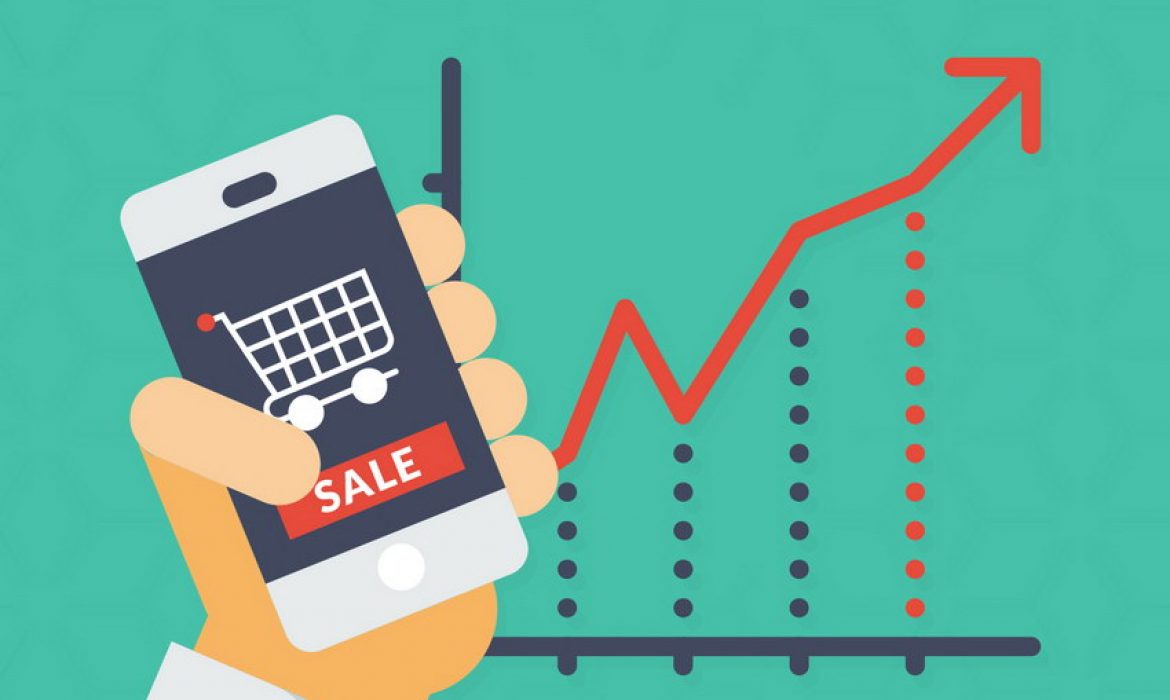 Mobile is taking the fashion retail industry by storm. The consumer's need for on-demand purchases has seen brands and stores quickly adapt to their audience as a means of providing the best possible shopping experience.
The integration of mobile phones into everyday life is remarkable. As a millennial, it's not hard to remember when the pocket-sized devices were thrust into the mainstream and how they became a game changer in more ways than one.
Almost 20 years later, one could argue that being the owner of a mobile phone, or perhaps more relevantly a smartphone, is a necessity. Statistics taken from a report carried out in 2016 by Pew Research Center show that 77% of US citizens own a smartphone and that "just over one-in-ten American adults are "smartphone-only" internet users".
These numbers only highlight why the retail industry have jumped on the m-commerce bandwagon: the outreach is vast and pretty much limitless. What's interesting though, is why shoppers are taking to their smartphones to buy their clothes. The age of mobile shopping is at hand – here's why.
Mobile is a time-saving tool
There's no doubt that smartphones have the ability to make our lives easier, and by easier I mean more time efficient. The digital era we live in means we're now accustomed to being able to complete a task that would have once been considered time-consuming, expensive or inconvenient, with the ease of an app.
This is the age of speed and simplicity, and the retail industry is unashamedly taking advantage of it. As a Forbes tech report states:
"Zooming in on the mobile experience is particularly key. Today 80% of UK traffic for ASOS and nearly 70% of orders come from a mobile device, with people spending 80 minutes per month, on average, in the ASOS app."
Asos is a prime example of a company that is optimizing its in-app strategy to an advanced level. In August this year, the online retailer launched a new visual search feature on its app (currently iOS only) that claims to allow users to be able to find a garment when they take a photo of someone else wearing it.
Aimed at those who like to take inspiration from others, the idea is that the user can stop a stranger on the street, ask to take a photo of what they're wearing (via the Asos app) and then be presented with the same or similar options to purchase within the app in that instant.
The tech may not be advanced enough to always provide exact examples, but Forbes tested it and reported that:
"Thanks to artificial intelligence, it can identify shape, color, print and more – it can serve up relevant options and at least start to inspire discovery."
Regardless of whether this feature works perfectly or not, Asos is cleverly addressing the needs of its customers by offering a unique time-saving tool that allows them to buy an item in a transient moment.
More widely-used examples of time-saving when shopping via an app include; the ability to shop on-the-go, an often clearer and smarter user interface, saved preferences, and social media engagement.
Mobile can offer a highly personalized experience
The most-forward thinking retailers that are reaping the benefits of being "mobile-ready" (in order to increase sales and customer retention) are those that are using advanced personalization technology.
Amazon was the pioneer of personalization back in 2013 when it began making product recommendations to its customers, based on their past purchases and browsing history. Nowadays retailers are going that extra mile to offer a personal touch to a shopping experience, a step that is welcomed by consumers.
Having converted to being a pure-play e-tailer in 2015, last year Shop Direct reported an impressive profit surge, with:
An increase of profit before tax of 43.6% to £150.4 million
A sales growth of 4.3% to £1.86 billion for the 53 weeks to 30 June 2016
With particular reference to the fact that "smartphone traffic increased 42% to more than 638,000 daily visits", as stated in Essential Retail.
Creating an in-app personalized experience has without a doubt been the backbone to this company's success, as highlighted by its CEO Alex Baldock:
"Personalization technology has been at the heart of the great success for us this year. We're making the most of how well we know our customers and being increasingly tailored to each of them."
In fact, many third party retailers (including retail marketplaces, aggregator apps and social channels) are offering increasingly convenient and highly personalized experiences to their consumers. EyeFitU – a personal fashion sizing platform – suggests to its users sizing recommendations, based on their personal measurements, with its integrated online stores and brands – providing another advanced aspect of personalization in fashion retail.
As displayed in Shop Direct's case, retailers are advancing their tech to create better personalized experiences which is having a profound effect on sales and engagement. This is proof that the shopper is reacting to a personalization in a highly positive way.
Mobile is trendy
Similar to owning a pair of in-season sunglasses or being the owner of a stylishly desirable Instagram account, mobile is very on-trend! Generation Z are most likely responsible for this, as reported in an article by Retail Week:
"(Gen Z) have been brought up in a world characterized by the rapid development of tech, so their behaviors and attitudes are heavily shaped by the abundance of technology at the very core of their day-to-day lives."
The tech-driven fashion retail culture that this era of shoppers has only really known is powered by social media and the need for on-demand access. Essentially, the customer will go where the trend goes.
Research carried out by comScore in 2016  found that; "Nearly 60% of mobile shoppers in the U.K. who made purchases online did so via a mobile app" as reported in Information Age last year. A figure which only adds weight to the argument of the growing popularity of mobile shopping with consumers.
Taking into account the fast-paced lifestyle that has derived from the digital revolution, shoppers are not only willing but enjoying taking advantage of a more accessible, tech-advanced means of shopping.
M-commerce is having its heyday but with intelligent tech advancing even further, the interesting part will be seeing how mobile can retain its popularity and continue to grow, benefiting both shoppers and retailers.
___
by Isabelle Ohnemus
source: ClickZ
Related Posts