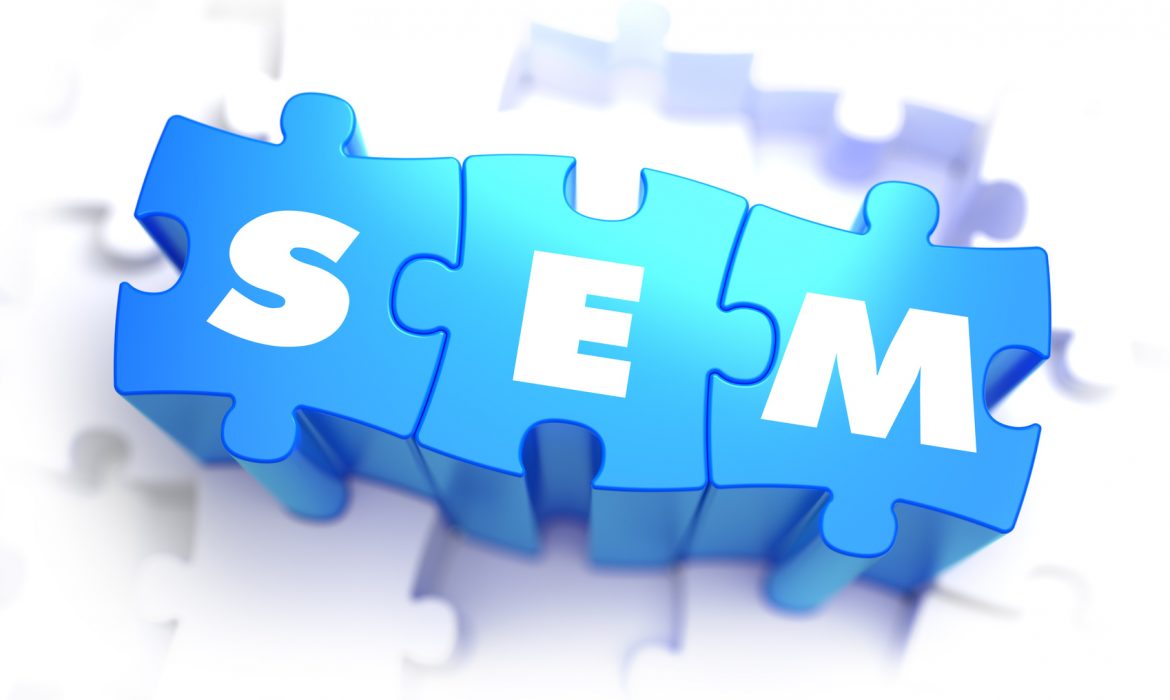 If you are coming to this article as a novice, I know what you are thinking. "Not another damned 3 letter acronym! Don't we have enough?"
Well, apparently not, and unfortunately there isn't all that much we can do to stop the ever growing database of aforementioned acronyms.
We must therefore get accustomed to not only knowing what they stand for (Search Engine Marketing, in case you were wondering) but also what they actually mean.
The first one is pretty easy. You now know what SEM means in its most basic form – "search engine marketing". However, the issue is that even those in the SEM industry will disagree on what the component parts of search engine marketing are or what the main focus of SEM is.
At Search Engine Watch we have covered this topic back in 2014, but much has changed since then. We're going to take a slightly different tack with this one. Instead of looking at what major organisations and websites define as SEM we're going to look at what could possibly be encompassed by the term SEM.
So let's dive straight in.
The main consensus
As per the original article on this topic, if you had to pick one overall consensus it would be that the major factor in SEM has traditionally been paid search. For the sake of argument let's refer to paid search as Google Adwords. This is somewhat linked to the more traditional pay to play advertising association with the word 'marketing', and therefore AdWords gets the nod in front of SEO.
However, over the years SEO has made up significant ground in terms of its visibility in the marketing world (and to clients). As such, whilst some may say that SEO comes in a close second as part of the SEM umbrella, there are many that would say that SEO is now a legitimate stand alone practice. In the second scenario this would mean that SEM is somewhat dominated by its association with Google Adwords.
Our opinion? SEM has far stronger links to paid search than paid and organic together, but that's just us.
The broad approach
It could quite rightly be argued that SEM encompasses anything that improves a website's visibility via search engines. On the face of it, Adwords and SEO would be the dominant pair here.
However, as our relationship with Google becomes ever more entrenched and complex (both as users and marketers) the list of potential factors that could be included in SEM expands. Let's look at some of the major ones below:
Adwords and SEO
I think you guys get the point on this one. The Federer vs Nadal of the SEM conundrum.
Local search
Yes, this should be an element of any comprehensive SEO campaign, but many would argue that this will more and more become its own discipline. When Google Maps are displayed for a search query, they take a dominant position in the results page.
Further to this, since 2014 mobile search has continued on its stratospheric trajectory and with the Google Maps app on smartphones everywhere, it is a significant channel through which visibility on search engines can be increased.
Google Shopping
Here come the trolls: "Google Shopping is pay per click and is therefore included under PPC". Riddle me this, troll, why do you think we were specific about Paid Search referring to Adwords – and if they were so similar, why are they managed via different platforms?
The recent record EU fine for Google's actions surrounding Google Shopping may have dented their ego but it does not stop Google Shopping from being a popular source of product browsing and subsequent purchase. A well-managed Google Merchant Centre account can be a fruitful form of SEM, used by blue chips and independent retailers alike.
PR or link building
Seriously? Yes, seriously. Search engines are sources of information and not all searchers are super specific. A prime example of this is someone searching for 'Wine Bars in London'. Whilst you may expect Google to return the likes of Humble Grape or Gordon's Wine Bar in the results, you will actually find that the main results are dominated by lists.
Google understands that the searcher is looking for options. What better way to give value to the user than by returning curated lists of wine bars from the likes of Time Out or Design My Night?
If this is the case (which it is), in a slightly roundabout way and not directly increasing visibility on the search results, exposure on these types of sites via a PR campaign will still influence your visibility via search engines.
The focus is still on Adwords
Indeed. Google Adwords is the star player of SEM and will continue to be so for more than just 2017. Hopefully the above has demonstrated that there are a number of factors that could legitimately fall under the term SEM; we haven't even looked at image search, the news feed, or the Knowledge Graph.
In the end, we would argue that the term SEM is falling out of favor. People have realised that the digital ecosystem is more complex than it was and practices such as Google Adwords or SEO are stand-alone services.
Ultimately, clarity is key. If you want to talk about Adwords, refer to it as Adwords. If you want to talk about SEO, say SEO.
For those providing a service that could be incorporated under the SEM umbrella, or are actively using the term during talks with prospective clients or with existing clients and insist on using SEM as a term, it is advisable that you look to define exactly what your definition of SEM is. In fact, if we looked honestly at ourselves as an industry, we have a tendency to throw about acronyms and terminology that can be mighty confusing to those instructing agencies!
Be aware of what you might deem as an 'assumed level of knowledge'; clients will appreciate clarity, and you can evade any easily avoidable misunderstandings!
___
by Simon Ensor
source: Search Engine Watch
Related Posts