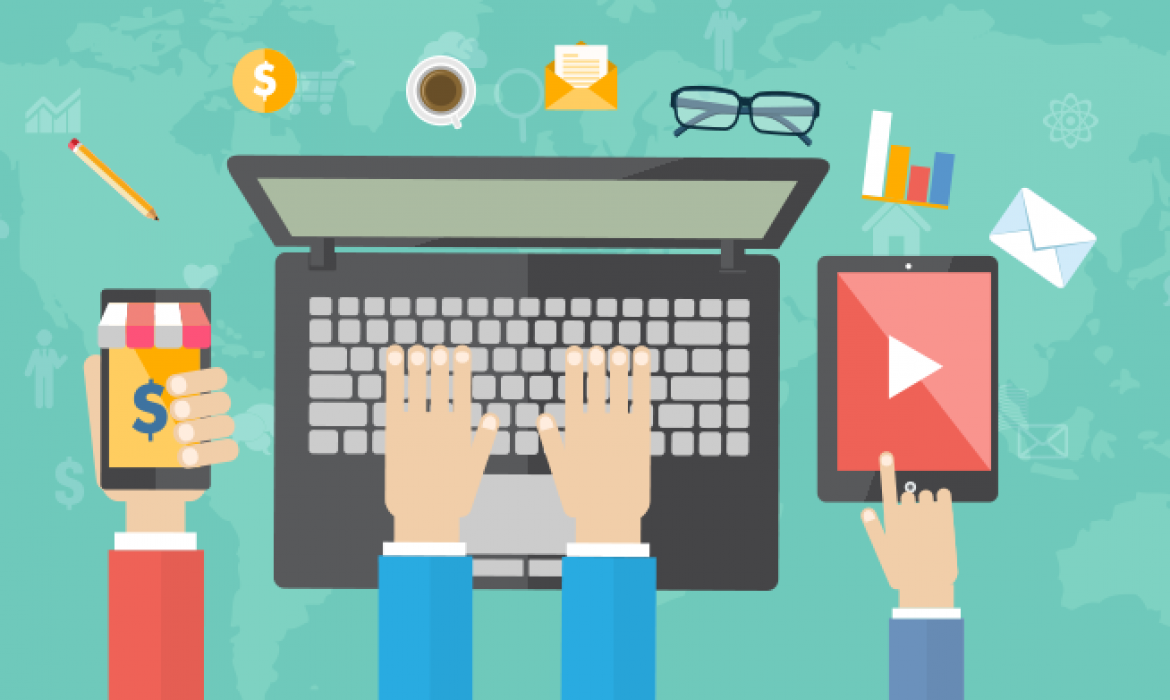 Video is here to stay! If you want to beat the competition and stand out in the crowd, video marketing might be your holy grail.
You have probably heard it everywhere: video marketing is the future — and the present. Hubspot claims that "video content in no longer an option, it's a necessary component of any successful marketing strategy."
Here's the lowdown on video marketing:
4X as many people would prefer to watch a video about a product than read about it.
By including the word "video" in an email subject line, you can boost open rates by 19 percent and click-through rates by 65 percent.
Including a video on a landing page can increase conversion by 80 percent.
YouTube has over a billion users, almost one-third of total internet users.
92 percent of mobile video viewers share videos with others.
44 percent of SMB owners and marketers plan to put money behind video content on Facebook this year.
The value of one minute of video can be translated to 1.8 million words, making it the single most practical use for your marketing time and money.
So even if you're not a big believer of video as the future, the statistics might convince you to dip your toe in the pool of marketing possibilities. Here are five things you need to know before you start producing videos.
1. Tell a story (not a sales pitch)
According to Digital Marketing Institute, the same rules that apply for your written marketing content apply for your video content: concentrate on the value you're providing for your customers.  Do not annoy them by actively promoting your product or service, instead center your video around a story. Take the time to research your customers wants, needs and desires and appeal to them through visual narrative. After all, storytelling is the new sales pitch.
American Greetings did exactly that with their extremely successful video "World's Toughest Job." The company puts their product in the background, focusing on human emotion instead (with a surprise twist). American Greetings builds a story around their product, allowing people to feel connected with the brand.
2. Create how-to videos
If you are launching a new product or service this year, create a video to demonstrate how it works. Video has the power to explain everything. In fact, viewers retain 95 percent of a message when they watch it in a video compared to 10 percent when reading it in text. In addition, 30 percent of people's YouTube searches are for how-to queries. Remember, YouTube is the second largest search engine, after Google (who owns YouTube). And to top it all off,  73 percent of consumers are more likely to make a purchase after watching how-to videos explaining a product or service.
BuzzFeed's Tasty is the master of how-to videos, often producing viral content. "How to Cook Perfect Pasta" is a good example of a how-to video that explains a mundane subject matter step-by-step in a capturing way. Tasty uses hyperlapse to speed up the demonstration, so that viewers receive the information as quick as possible. People's attention spans are getting shorter, therefore videos up to 2 minutes long get the most engagement. Keep it short and sweet!
3. Deliver in the first 10 seconds
10 seconds — that's how long you have to grab the viewer's attention, before they move on to the next best thing online. Research shows that you'll lose 1/3 of your viewers by 30 seconds, and 60 percent of them by two minutes. So, you have a very short window to get the point across and convince viewers that your video is worth watching. Similar to blog posts or presentations, start your video with a hook to grab their attention. Then, immediately convey why viewers should keep watching. A great example is "SIRIS Pancakes," a video that immediately piques the viewer's interest.
4. Don't be discouraged
You probably come across hundreds of videos a day, some of them extremely well scripted and expensively produced. Even though we would all love to make ultra-professional videos, many small to medium sized businesses do not have the budget or manpower for this. But don't be discouraged! You don't need expensive video equipment to make good videos. Video quality is actually not the most important thing when it comes to video marketing. Thirty-seven percent of viewers are put off by a video that doesn't explain the product or service clearly enough (versus 25 percent of people discouraged by a video's low quality). Content is the most important qualifier in successful video marketing.
So, don't get bogged down by the fact that you don't have a professional video studio. Smartphones are capable of taking amazing videos now. If you're budget is limited, you can start small by purchasing semi-professional lighting and backgrounds on Amazon — that's how we did it at Bizness Apps. You can also turn to animated videos, which have proven to be very effective. For instance, "Dumb Ways to Die," a simple animation video, has gathered over 68 million views in its mission to educate people about rail safety. Now that's a bang for your buck!
5. Don't be boring
A boring video can do more harm than good. Make your viewers laugh, teach them something new or transport them into another world. The most popular form of online video content is comedy, as you might have guessed, closely followed by news and music.
Chatbooks took all of this to heart in their "Stop Wasting Hours Making Photo Books" video. As you may notice, this video tops at 3:50min, which goes against the engagement statistics. But with its perfect combination of wit, charm, product description and honesty, people didn't mind its lengthier format. With 10 million views, this video proves that it pays off to be original.
Even if you are in a "boring" business, videos can still be a great way to attract and close customers. The most dull subjects can become highly engaging with video. We all know "Jake from State Farm", putting a boring insurance company in an entertaining light.
Video is here to stay! If you want to beat the competition and stand out in the crowd, video marketing might be your holy grail.
___
by KIMBERLY DE SILVA
source: Entrepreneur
Related Posts