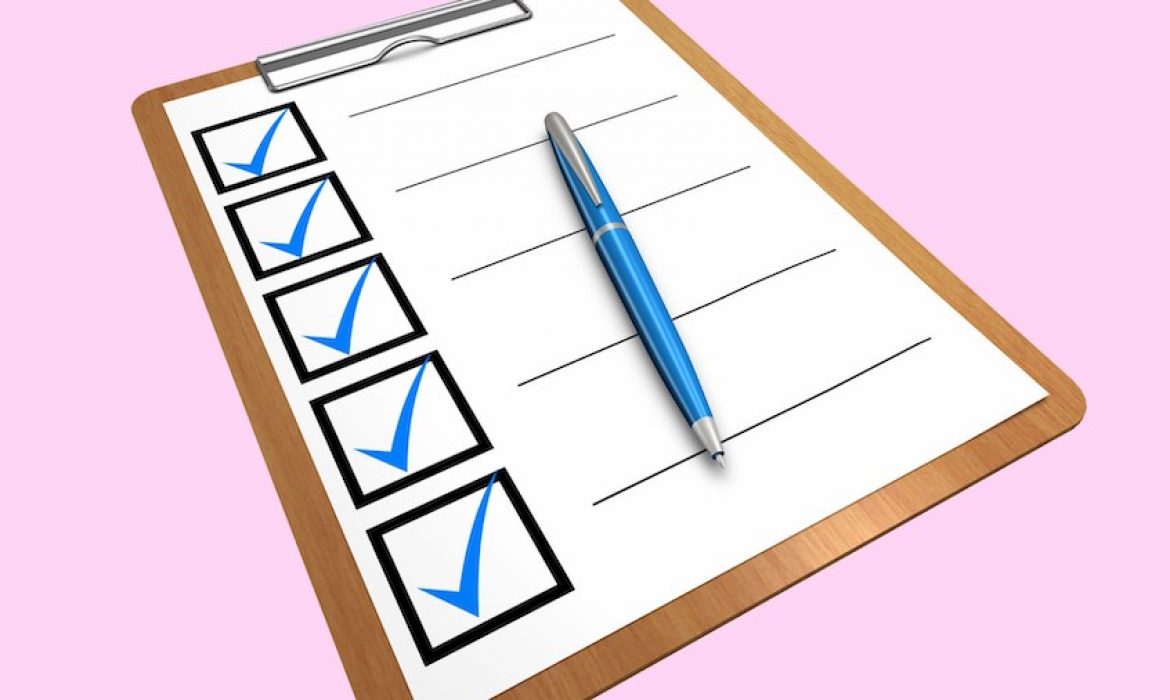 Every day, people are bombarded with advertisements online.
But only a few realize that what they come across is called native advertising. In the era of banner blindness, when it's becoming more and more challenging to reach your audience with traditional ads, native advertising is on the rise. And it might leave you wondering: are these 'you may also like' widgets so effective and what's in it for you?
Why at all bother with native advertising?
Native advertising is a digital marketing approach that involves using paid advertisements that fit seamlessly into the surrounding content of the website they're displayed at.
While good old display ads have been widely used for over 20 years, we only learned the term 'native advertising' in 2011. How did it happen that this relatively new advertising technique was projected to account for 64.8% of total display ad spending in the US in 2020?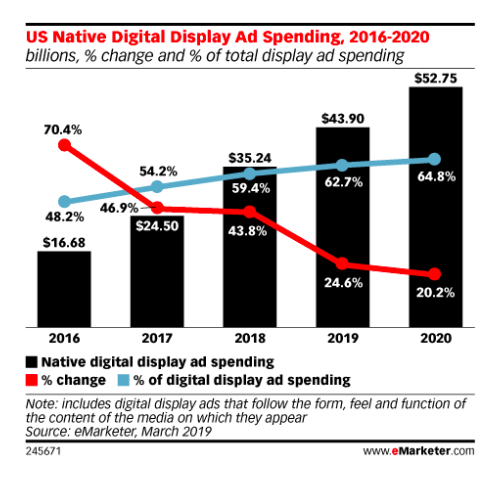 To understand why this newcomer outran traditional display ads and how this promising approach could strengthen your digital marketing strategy, it's time to check out the major benefits of native advertising.
1. It's easily aligned with your marketing funnel
First and foremost, native ads proved to be a great content distribution technique. Whatever type of content you want to promote, you can be sure you'll reach the relevant audience with well-crafted native ads.
How is native advertising aligned with a marketing funnel? A marketing funnel is a model that describes every stage of your buyer's journey from the moment they discovered your brand to conversion.
Let's take a look at the marketing funnel to have a better idea of how it aligns with your content marketing.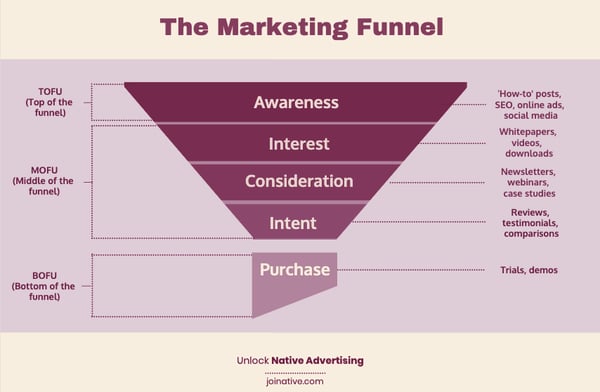 Depending on the marketing funnel stage, there's a specific type of content to support it.
Creating top of the funnel (TOFU) content that builds brand awareness and nurturing leads with your middle of the funnel (MOFU) content, you gently drive them to the bottom of the funnel (BOFU). The final stage often requires personalized product-focused content used by your sales team.
Now, we'll take a closer look at how native advertising is used to promote ToFu, MoFu and BoFu content, leading your prospects to the purchase stage.
Top-of-funnel (TOFU) content
The top of the funnel is where your prospecting customers acknowledge their problem, start looking for the decision, and 'suddenly' come across your brand. The content you create at this stage should focus on the wide range of prospects and talk about their subject of interest but not about your brand.
The top of the funnel content is aimed at bringing in new leads and build trust, answering the audience's common questions, and educating them.
To put this content in front of the audience that has never heard of your brand, you'll need to leverage different content distribution techniques. Bringing in the opportunity to target billions of relevant users, native advertising is one of the most effective techniques used to distribute the top of the funnel content.
It'll help you reach the basic goals you set at the awareness stage: targeting new customers, building awareness, entering new markets, and generating leads.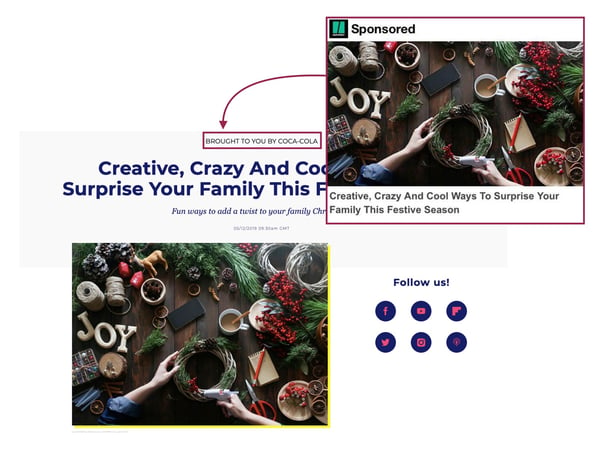 Coca-Cola's native ad offers HuffPost readers to check out creative and crazy ways to surprise their family during the festive season.
Middle-of-funnel content (MOFU)
During the next three closely interrelated phases, the customer realizes there are different solutions to their problem and starts looking for the best one.
Your MOFU content should target towards educating your customers and showing them how they can solve their problems themselves. At the same time, you might want to highlight how much faster they could address it with your product or service.
If you go with native advertising at this stage, the process of campaign creation might be a bit different from the one at the awareness stage. First of all, you'd rather change the targeting settings and opt for retargeting, this option lets you re-engage your recent website visitors, existing customers, or subscribers of your email list.
Secondly, your goals will differ a lot. While different native advertising platforms allow you to set different objectives, here are several basic goals you'll reach using native ads to promote your mid-funnel content: increase purchase intent, build trust and retarget leads.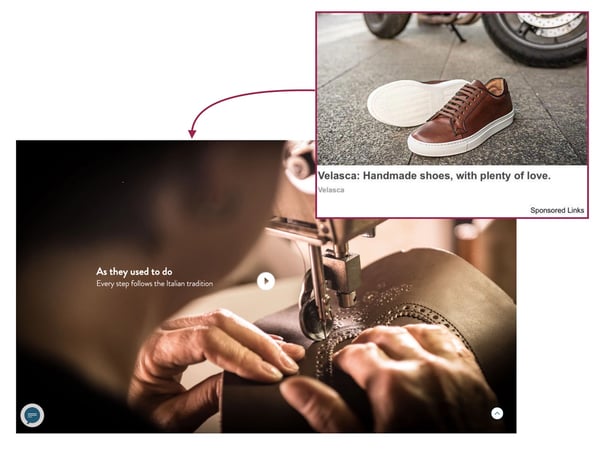 Velasca uses native ads to promote their landing page, illustrating the process of shoemaking and telling about the company's values.
Bottom-of-funnel (BOFU)
At this stage, your prospects make it right to the conversion. Native ads promoting BOFU content may lead to the landing pages that offer eBook download, app install, free consultation, or coupon.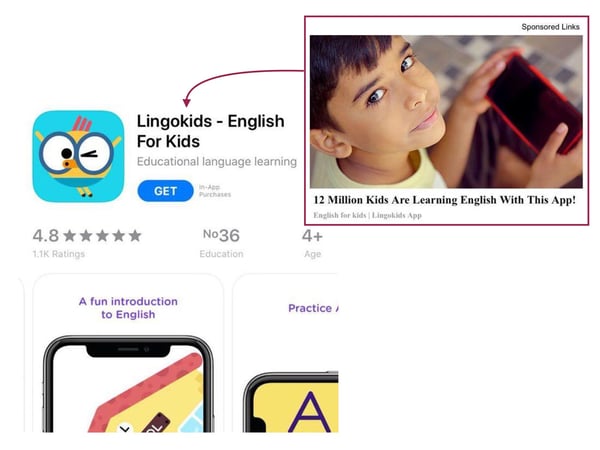 The native ad saying '12 Million Kids Are Learning English With This App' leads to the language learning application in the App Store.
As you can see, native advertising isn't just another advertising method. It's an actionable approach to content promotion helping marketers reach multiple goals.
2. It's non-disruptive
It's no secret that people hate ads. I hate them, too. The number of active ad-blockers can prove it. But I have nothing against well-crafted native ads (as well as against the badly-crafted ones, to be honest). Moreover, most of you don't mind them, either. In fact, people look at native ads 53% more frequently than display ads. Why's that?
Well, banner ads interrupt your browsing experience at every turn: they pop up, autoplay videos, dramatically increase page load time, and so on. It often seems they're created with one goal in mind: irritating users.
Native advertising is drastically different. The fact the ads match the form and the function of the website they appear within makes them as minimally intrusive as possible.
3. It helps you build brand awareness
As I've already mentioned, native ads are extremely useful for promoting the top of the funnel content. But the way people interact with this content matters the most for your brand awareness.
As native ads are woven into different types of content: educational, emotional, visual, it has a great chance of going viral. Although people rarely share highly promotional content (unless they're marketers), many of them happily share useful or entertaining content. So while you only pay for native ads to be shown , your readers might go further sharing your content and promoting your brand for free.
4. It contributes to brand credibility
Native advertising lets you distribute content and reach the widest possible audience. Along with building brand awareness, it's your chance to create a relationship that builds trust and loyalty.
Of course native ads don't always look credible. It's all about the content you promote with your ads. If it has no value to the reader, no epic advertisement will fix it. However, quality content displayed on trustworthy websites, such as The Guardian, Daily Telegraph, or HuffPost will help you establish your brand as a niche expert.
It's also worth mentioning that you can not only promote your blog posts or other owned media resources but also display your articles on the publishers' websites. Although the post will be marked with the 'sponsored' label, it'll still match the form of the editorial content and look credible.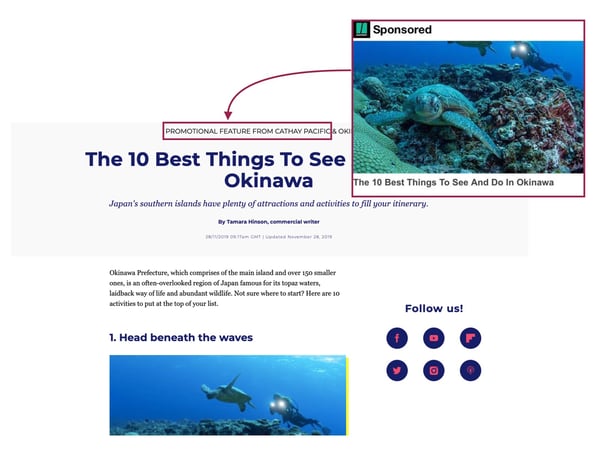 The native ad provided by Cathay Pacific & Okinawa and displayed among sponsored links on HuffPost leads to the article published on HuffPost looking like the editorial content of the magazine.
5. It's just effective
Last but not least – it's effective. Actually, it's the biggest reason to consider including native advertising into your digital marketing strategy. Native advertising drives higher engagements than traditional display advertising. Native ads have higher acceptance rates, click-through rates, and purchase intent. Below are some statistics that prove its effectiveness.
According to Sharethrough research:
Native ads registered an 18% higher lift in purchase intent than traditional banner ads.
Native ads witnessed a 9% higher lift for brand affinity responses compared to banner ads.
32% of respondents said the native ad "is an ad I would share with a friend of family member", while only 19% said the same about display ads.
The average amount of time spent on previewing editorial content against native ads is almost similar – 1 second per a native ad and 1.2 seconds per editorial content.
And more research has found that:
Sounds good, doesn't it?
Native advertising can be incredibly effective when done right. To reach your goals with it, you need to ensure that the following criteria are met: the posts or campaigns they promote are relevant and informative; your content is placed on platforms that reach your target audience; articles aren't overly self-promotional; and ads look catchy and encourage readers to click on them.
Play by the rules, and you'll enjoy its benefits of native advertising.
___
by Adelina Karpenkova
source: Learning Hub
Related Posts